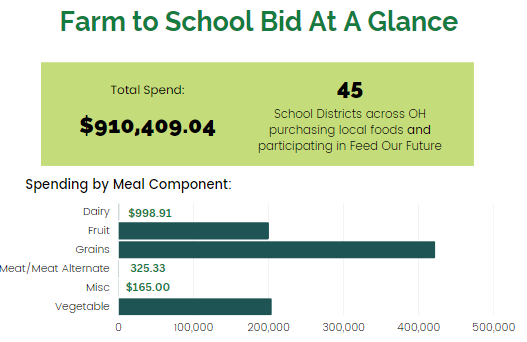 Feed Our Future and our partners work together to ensure ALL children have access to fresh, healthy, and when available local food. No matter where they go to school. With this in mind, we always do our very best to make buying local foods as easy as possible for our school partners. We know that together our efforts help farmers win, food artisans win, schools win, and most importantly, KIDS win.
To make purchasing local food easier for schools, we utilize our innovative school buying cooperative approach. Our farm to school bid focuses on fruits, vegetables, and value-added products with local ingredients and is designed to be flexible for every child nutrition program. The program can be tailored to meet each and every school district where there are today and where they hope to be tomorrow. With the help of our bid, local food purchasing has continued to grow and gotten better year after year.
The 2022-2023 school year was no exception to that rule. To kick off National Farm to School month we are excited to release our second annual local purchasing report. The Northeast and Southwest regions of the state did not disappoint and we could not be happier or more excited about what our school nutrition partners achieved:
45 school districts participating in local food purchasing, a 20% increase from last school year
Total local spend:  $910,409.04, a 12% increase from last school year
41 small and medium sized producers and food artisans invested in
That is a whole lot of local food for students and a whole lot of money for the local economy. It's a win win for everyone!
Access full report here.
Access Northeast Ohio summary report here.
Access Southwest Ohio summary report here.
We can't wait to see what the 2023-2024 school year holds for local foods! Contact us to learn more about how you join our local purchasing program and become a part of our 2023-2024 purchasing report.