Inspiring young minds
to make mindful choices about what they eat.
Feed Our Future connects schools, homes, and communities by providing practical information about sourcing, eating, and promoting local foods that nourish young students.
Rooted in Northeast Ohio. Expanding to Schools & Homes Across the Nation
Local Roots
The Feed Our Future journey began in Northeast Ohio and continues to inspire local schools and homes to promote healthy, local foods.
National Growth
Our movement transcends state boundaries as we help other like-minded organizations create demand for fresh, local food.
Committed to Our Future
Our focus is connecting people to practical information and tools that inspire young minds to make healthy food choices.
.
Food Service Professionals
Explore school lunch nutrition and make powerful menu changes with this guide to incorporating local foods into day-to-day operations.
Educators & Administrators
Inspire young minds to make mindful choices about what they eat.
Parents & Students
Understand how food choices directly impact learning, mood, health, family, and community.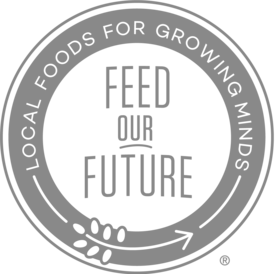 Join the movement and make a commitment to helping your students discover the benefits of healthy, fresh and local foods.
By taking the pledge, the Feed Our Future team will email you every few months to check in with new information, resources, and opportunties for connecting our schools' food programs with local produce.
Eat it. Grow it. Share it.
The Harvest of the Month program promotes a different Ohio-grown food each month. The goal is to make it easier for food service professionals to serve local foods and to provide materials educators and administrators can use to encourage students to eat healthfully and locally.
Bring Feed Our Future to My Community
If you aren't from Northeast Ohio but want to join our movement, contact us for information about how to activate Feed Our Future in your area.