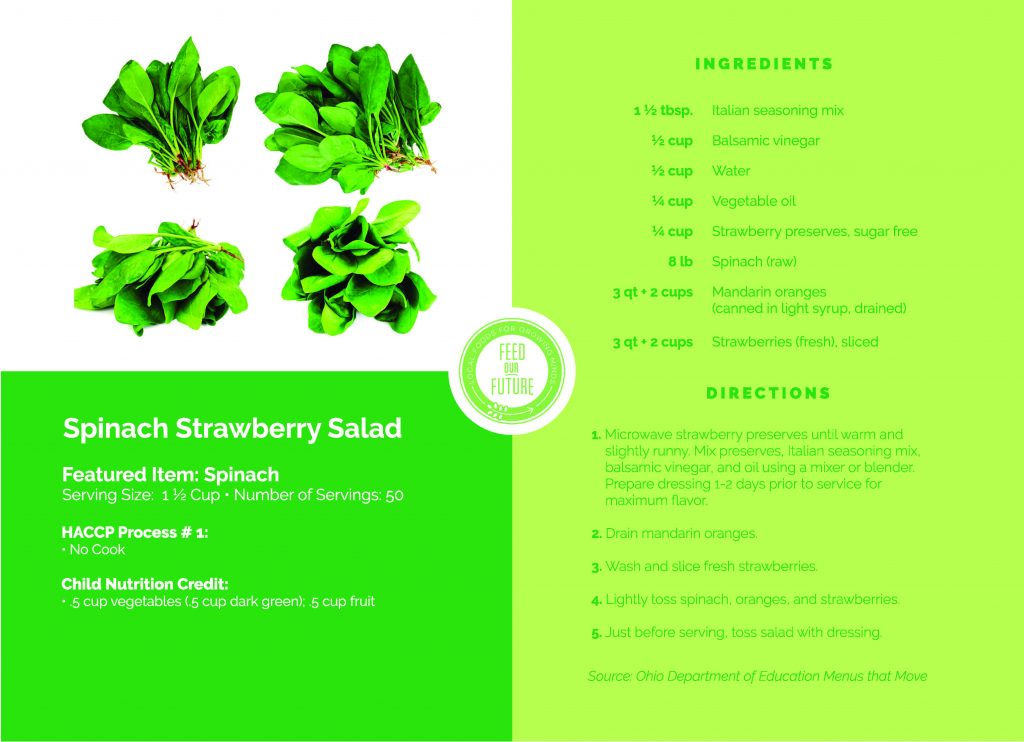 Make this dish. Make an impact. When you choose to buy, prepare, and eat fresh, local foods, it's better for you and your community! Download our Strawberry Spinach Salad today. Cook and share with #feedourfutureohio.
Ingredients:
1 1/2 tablespoons Italian seasoning mix, dry
1/2 cup balsamic vinegar
1/2 cup water
1/4 cup vegetable oil
1/4 cup strawberry preserves (jam or jelly), sugar free
8 pounds local spinach, raw
3 quarts, 2 cups mandarin oranges (canned in light syrup, drained)
3 quarts, 2 cups strawberries, fresh, sliced
Directions:
Microwave strawberry preserves until warm and slightly runny. Mix preserves, italian seasoning mix, balsamic vinegar, and oil using a mixer or blender. Prepare dressing 1-2 days before service for maximum flavor.
Drain mandarin oranges.
Wash and slice fresh strawberries.
Lightly toss spinach, oranges, and strawberries.
Just before serving, toss salad with dressing.
Source: Ohio Department of Education Menus that Move