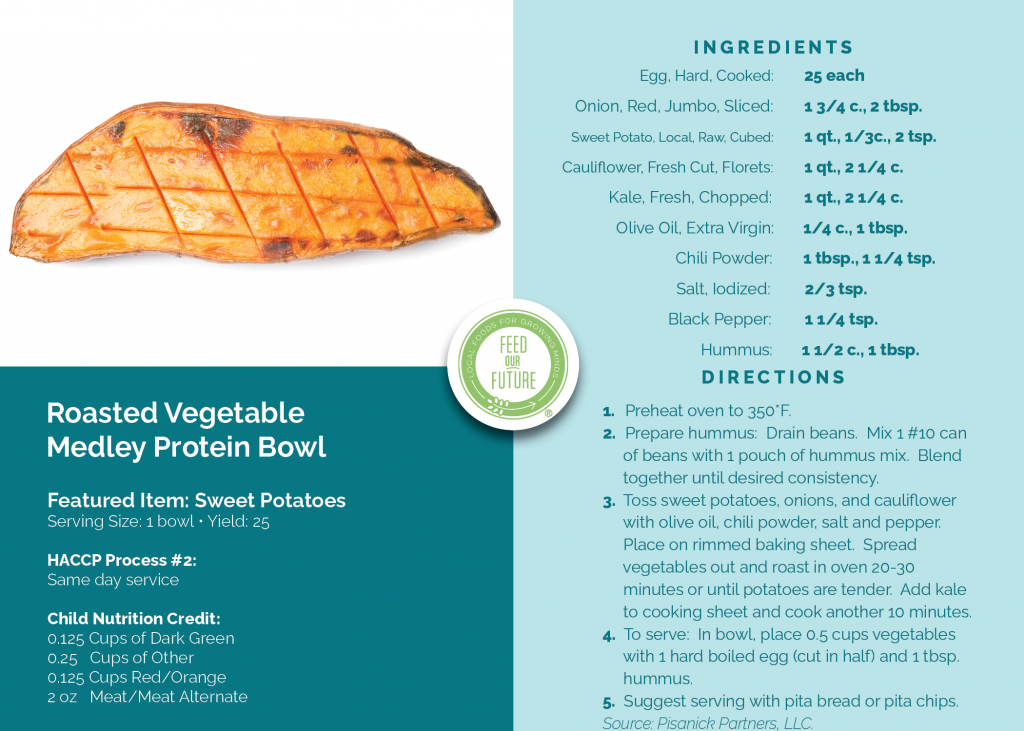 Make this dish. Make an impact. When you choose to buy, prepare, and eat fresh, local foods, it's better for you and your community! Download our Roasted Vegetable Medley Protein Bowl today. Cook and share with #feedourfutureohio.
Ingredients:
25 hard boiled eggs
1 3/4 cup, 2 tablespoons red onion, sliced
1 quart, 1/3 cup, 2 teaspoons LOCAL sweet potatoes, cubed
1 quart, 2 1/4 cup fresh cauliflower florets
1 quart, 2 1/4 cup kale, chopped
1/4 cup, 1 tablespoon extra virgin olive oil
1 tablespoon, 1 1/4 teaspoon chili powder
2/3 teaspoon salt
1 1/4 teaspoon black pepper
1 1/2 cup, 1 tablespoon hummus
Directions:
Preheat oven to 350 degrees.
Prepare hummus. Drain beans. Mix 1 #10 can of beans with 1 pouch of hummus mix. Blend together until desired consistency.
Toss sweet potatoes, onions, and cauliflower with olive oil, chili powder, salt, and pepper. Place on rimmed baking sheet. Spread vegetables out and roast in oven for 20-30 minutes, or until potatoes are tender. Add kale to cooking sheet and cook another 10 minutes.
To serve: In bowl, place 1/2 cup vegetables with 1 hard boiled egg (cut in half) and 1 tablespoon of hummus.
Suggest serving with pita bread or pita chips.
Source: Pisanick Partners, LLC