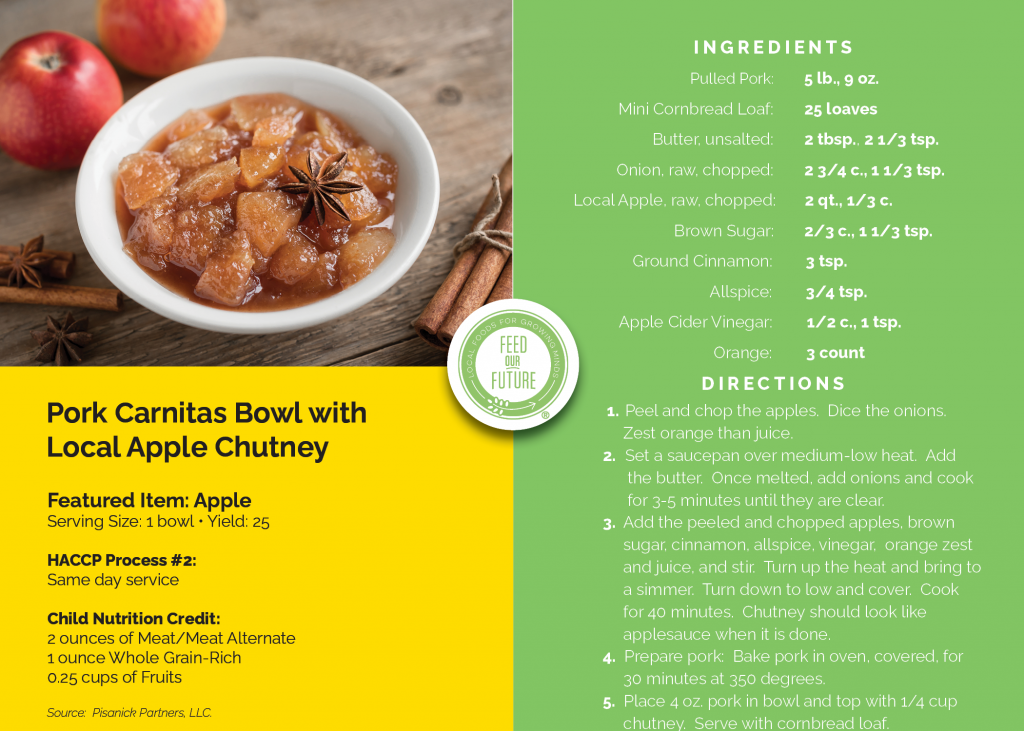 Make this dish. Make an impact. When you choose to buy, prepare, and eat fresh, local foods, it's better for you and your community! Download our Pork Carnitas with Local Apple Chutney today. Cook and share with #feedourfutureohio.
Ingredients:
5 pounds, 9 ounces pulled pork
25 mini cornbread loaves
2 tablespoons, 2 1/3 teaspoons unsalted butter
2 3/4 cup, 1 1/3 teaspoon raw onion, chopped
2 quarts, 1/3 cup LOCAL apple, chopped
2/3 cup, 1 1/3 teaspoon brown sugar
3 teaspoons ground cinnamon
3/4 teaspoon allspice
1/2 cup, 1 teaspoon apple cider vinegar
3 oranges
Directions:
Preheat oven to 350 degrees.
Peel chop the apples. Dice the onions. Zest orange then juice.
Set a saucepan over medium-low heat. Add the butter. Once melted, add onions and cook for 3-5 minutes until they are clear.
Add the peeled and chopped apples, brown sugar, cinnamon, allspice, vinegar, orange zest and juice, and stir. Turn up the heat and bring to a simmer. Turn down to low and cover. Cook for 40 minutes. Chutney should look like applesauce when it is done.
Prepare pork. Bake pork in oven, covered, for 30 minutes.
Place 4 ounces of pork in a bowl and top with 1/4 cup chutney. Serve with cornbread loaf.
Source: Pisanick Partners, LLC