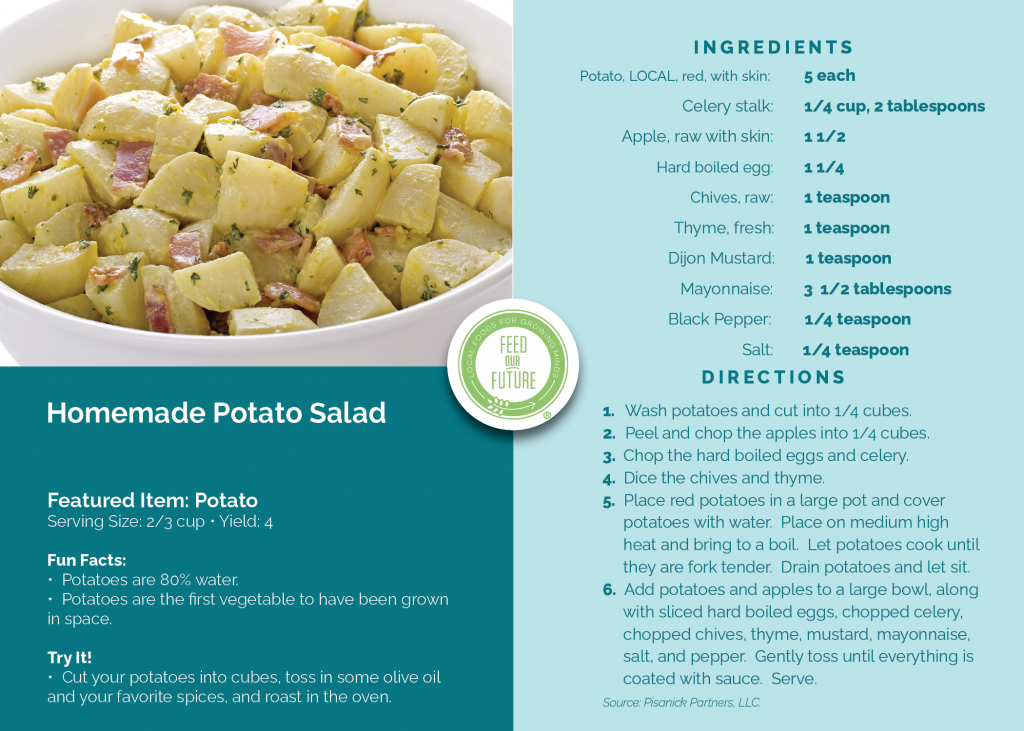 Make this dish. Make an impact. When you choose to buy, prepare, and eat fresh, local foods, it's better for you and your community! Download our Homemade Potato Salad recipe today. Cook and share with #feedourfutureohio.
Ingredients:
5 red potatoes, LOCAL
1/4 cup and 2 tablespoons celery
1 1/2 apples
1 1/4 hard boiled egg
1 teaspoon chives
1 teaspoon thyme
1 teaspoon dijon mustard
3 1/2 tablespoons mayonnaise
1/4 teaspoon black pepper
1/4 teaspoon salt
Directions:
Wash potatoes and cut into 1/4 inch cubes.
Peel and chop the apples into 1/4 inch cubes.
Chop the hard boiled eggs and celery.
Dice the chives and thyme.
Place red potatoes in a large pot and cover potatoes with water. Place on medium high heat and bring to a boil. Let potatoes cook until they are fork tender. Drain potatoes and let sit.
Add potatoes and apples to a large bowl, along with sliced hard boiled eggs, chopped celery, chopped thyme and chives, mustard, mayonnaise, salt, and pepper. Gently toss until everything is coated with sauce. Serve.
Source: Pisanick Partners, LLC