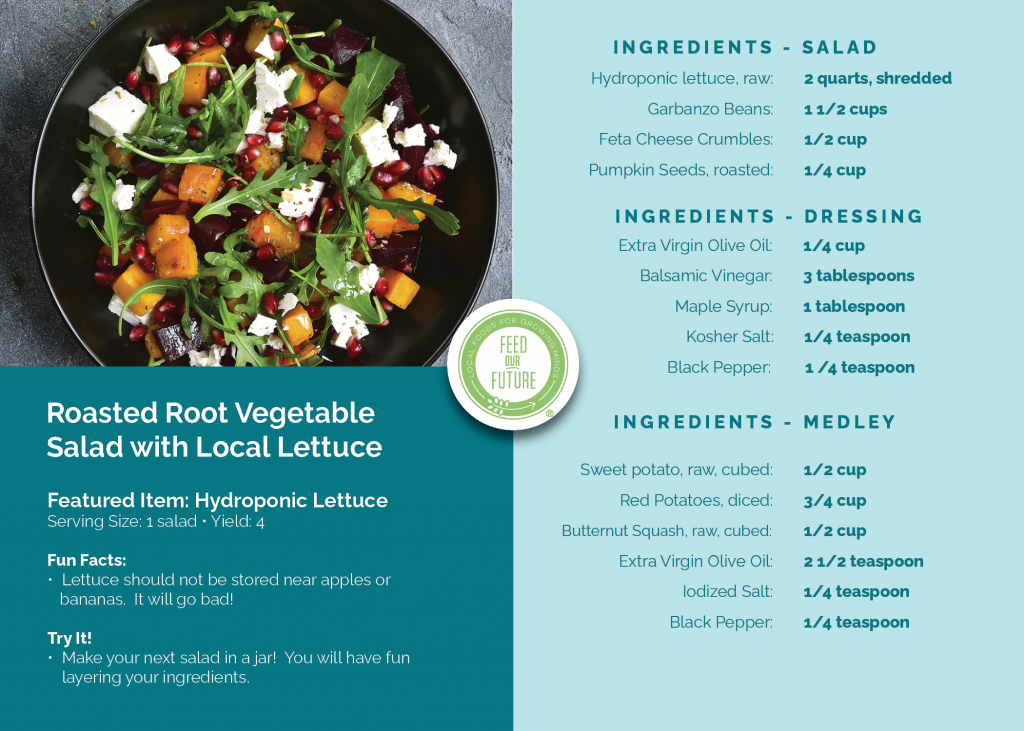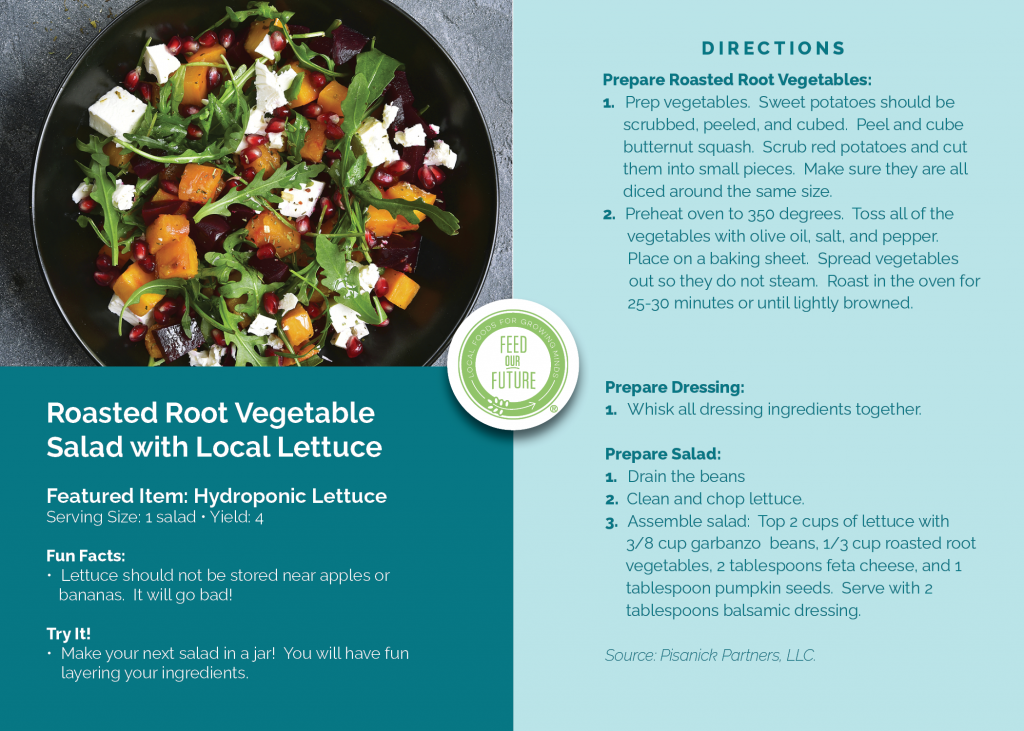 Make this dish. Make an impact. When you choose to buy, prepare, and eat fresh, local foods, it's better for you and your community! Download our Roasted Root Vegetable Salad with Local Lettuce recipe today. Cook and share with #feedourfutureohio.
Ingredients – Salad:
2 quarts LOCAL hydroponic lettuce, shredded
1 1/2 cups garbanzo beans
1/2 cup feta cheese crumbles
1/4 cup pumpkin seeds, roasted
Ingredients – Dressing:
1/4 cup extra virgin olive oil
3 tablespoons balsamic vinegar
1 tablespoon maple syrup
1/4 teaspoon kosher salt
1/4 teaspoon black pepper
Ingredients – Medley:
1/2 cup sweet potatoes, raw, cubed
3/4 cup red potatoes, raw, diced
1/2 cup butternut squash, raw, cubed
2 1/2 teaspoon extra virgin olive oil
1/4 teaspoon salt
1/4 teaspoon black pepper
Directions – Roasted Root Vegetables:
Prepare vegetables. Sweet potatoes should be scrubbed, peeled, and cubed. Peel and cube butternut squash. Scrub red potatoes and cut them into small pieces. Make sure they are all diced around the same size.
Preheat oven to 350 degrees. Toss all of the vegetables with olive oil, salt, and pepper. Place on a baking sheet. Spread vegetables out so they do not steam. Roast in oven 25-30 minutes or until lightly browned.
Directions – Dressing:
Whisk all dressing ingredients together.
Directions – Salad:
Drain the beans.
Clean and chop the lettuce.
Assemble the salad: Top 2 cups of lettuce with 3/8 cup garbanzo beans, 1/3 cup roasted root vegetables, 2 tablespoons feta cheese, and 1 tablespoon pumpkin seeds. Serve with 2 tablespoons balsamic vinegar.
Source: Pisanick Partners, LLC