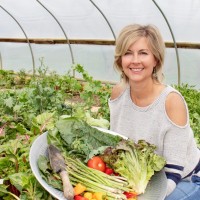 After two decades as a public school teacher and fifteen years managing school-garden programs on a local and national level, Cynthia Walters has joined the Green Umbrella staff as the Greater Cincinnati Regional Farm to School Curriculum and Green Schoolyards Coordinator. Cynthia's role within Farm to School will be focused on supporting regional teachers and educators by helping them access relevant materials and programming and align available Farm to School activities with state educational standards. As the Green Schoolyards Coordinator, Cynthia will collaborate with community partners to work toward the vision of all Cincinnati Public Schools' students having equitable access to outdoor experiences and environmental education (both regular and routine and special activities), regardless of demographics, economic status or family support for such activities.
Cynthia is set on transforming the educational system through experiential learning, outdoor education, and by establishing policies focused on improving the health and wellness of school children. Over the years, Cynthia has cultivated relationships with community partners and provided professional development to produce a collaborative model in connecting children to nature. Cynthia continues to work with organizations and institutions to create experiential-based curriculum and guide policies to ensure the longevity of initiatives emphasizing the whole child. Cynthia aims to incorporate student voices in the process of transforming schoolyards where young people are empowered to be the stewards of social and environmental justice within their communities.
For more information, contact Cynthia at cynthia@greenumbrella.org. The Greater Cincinnati Regional Farm to School Curriculum position is funded by a USDA Farm to School Implementation Grant that was awarded to Green Umbrella in July 2021.
Learn more about Green Umbrella's initiatives at: