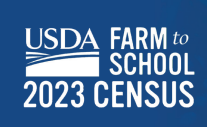 See what we did there?!
All jokes aside, the first Farm to School Census since 2019 is out now and it is really important that schools complete it. This survey is the largest of its kind and collects information from more than 18,000 public, private and chart schools that administer child nutrition programs. We learned some very valuable information from the 2019 census. Such as two-thirds of schools (65%), participated in one or more farm to school activities. We are eager to see what we will learn from the 2023 census.
The 2023 Farm to School Census will collect information regarding the use of local food for school lunches and other farm to school activities for the 2022-2023 school year. The responses to the survey help us not only celebrate the growth of farm to school, but also bring awareness to the support still needed in Ohio.
The USDA's Food and Nutrition Services has tons of helpful resources to help you successfully complete the census. The Feed Our Future team is here to help you! Our farm to school coordinator is available to help any school district complete the census questions and provide any additional assistance needed. Simply click here to request one on one support.