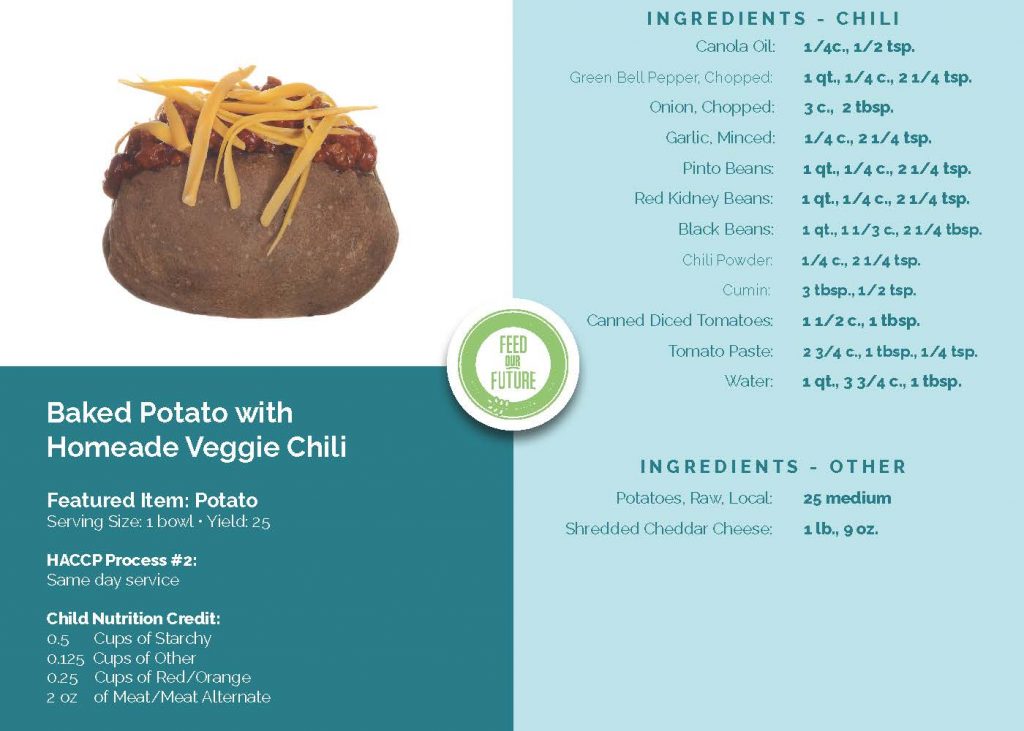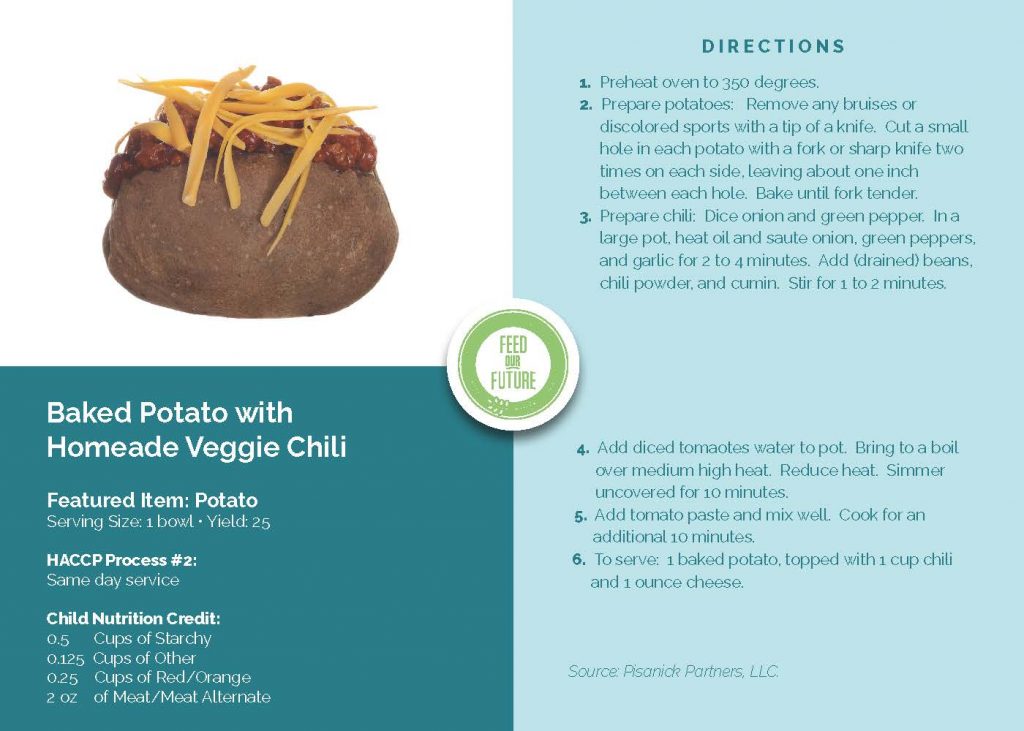 Make this dish. Make an impact. When you choose to buy, prepare, and eat fresh, local foods, it's better for you and your community! Download our Baked Potato with Homemade Veggie Chili today. Cook and share with #feedourfutureohio.
Ingredients:
25 medium local potatoes, raw
1/4 cup, 1/2 teaspoon canola oil
1 quart, 1/4 cup, 2 1/4 teaspoon chopped green bell pepper
3 cups, 2 tablespoons chopped onion
1/4 cup, 2 1/4 teaspoons minced garlic
1 quart, 1/4 cup, 2 1/4 teaspoons pinto beans
1 quart, 1/4 cup, 2 1/14 teaspoons red kidney beans
1 quart, 1 1/3 cup, 2 1/4 tablespoons black beans
1/4 cup, 2 1/4 teaspoons chili powder
3 tablespoons, 1/2 teaspoons cumin
1 1/2 cups, 1 tablespoon canned diced tomatoes
2 3/4 cups, 1 tablespoon, 1/4 teaspoons tomato paste
1 quart, 3 3/4 cups, 1 tablespoon water
1 pound, 9 ounces shredded cheddar cheese
Directions:
Preheat oven to 350 degrees.
Prepare potatoes:

Remove any bruises or discolored spots from potatoes with a tip of a knife.
Cut a small hole in each potato with a fork or sharp knife two times on each side, leaving about 1 inch between each hole. The holes allow steam to escape during baking; if you do not cut the potatoes, they may explode during baking.
If you want a softer skin, rub a small amount of vegetable oil over each potato; for a crispy skin, do not use oil.
Bake until fork tender.

Prepare chili:

Dice onion and green peppers.
In a large pot, heat oil and saute onions, green peppers, and garlic for 2 to 4 minutes.
Add (drained) beans, chili powder, and cumin. Stir well. Cook for 1-2 minutes.
Add diced tomatoes and water. Bring to boil over medium-high heat. Reduce heat. Simmer uncovered for 10 minutes.
Add tomato paste and mix well. Cook for an additional 10 minutes.

Serve: 1 baked potato, topped with 1 cup chili and 1 ounce cheddar cheese.
Source: Pisanick Partners, LLC